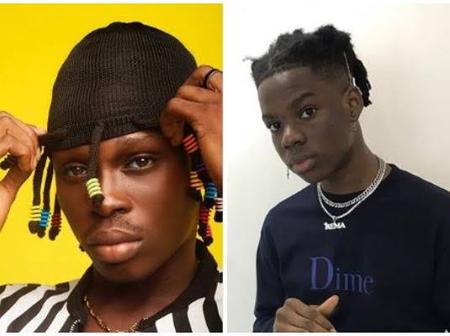 Mavin & Jonzing fast growing superstar, Rema is unarguably one of the most talented new generation act that's fully ready to take over from the likes of Wizkid, Davido and Burna Boy. The multi-talented singer Released his 2020 debut titled "Beamer" on the 21st of February to set off the new year. Below are My Thoughts about the new song….
The song is an afrobeat, Indiana, dancehall and Latin trap record produced by Jamaican record producer, Rvssian. The young Nigerian kid, Rema linked up with Rvssian after the international act got hit by his unique vibe and flow. They both got into the studio for some vibes and recorded banger upon banger. To show the world their new found chemistry Rema dished out 'Beamer', this one out of more hits to come.
Now to the main bizness – 'Beamer', this a song you can't resist or walk pass. It's a complete vibe of sounds an International standard!
Firstly, The Intro of the song 'Beamer' is a major one from my own point of view. The part of the world that i feel we (Nigerians) still need to hit more is the; Arab Nation, Latinos and Indianas. Rema's intro on this song is capable of hitting these above listed nations and gets their attention. He started the record with their style of music/sound which is his unique vibe that will earns him more penetration and audience. This will also puts us on the map.
Secondly, Rema is good singer that has matured into a multi-talented 'Act'. When i say 'Act', i mean acting along with your music / craft. Rema sold this song to everyone with the music video, his Charisma alone through out the whole visuals (from the beginning to the end), killed the show. People tend to say he is imitating Wizkid but the Young star proved that he is more than just a Wizkid. On this new music video you can see Wizkid and Burna Boy in him, a good singer with the Bad Boy vibe, A Gangster! (Well now we all know the girls dem love the Bad Boyz more nowadays than lover ones).
On the concluding part with this new song and music video, It just shows Remy boy has gone pass the Nigeria market, he is someone who is now ready for the International scene. He is not just restricting himself to our context alone, the young fella wants to do more, penetrate and get us more accolades.